RF MEMS
MEMS RF switches are miniaturized mechanical devices for switching high frequency electromagnetic signals. The advantages of MEMS RF switches compared to PIN diodes and field-effect transitors (FETs) are minimum insertion loss, maximum isolation, a superior signal linearity, and a very low power consumption.
Application Areas
Protron Mikrotechnik's electrostatic RF switches are suitable for an application in
mobile communication systems
RF test equipment
radar systems
satellites
Switch Details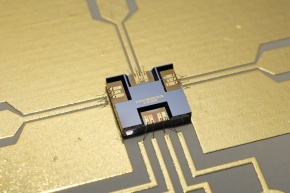 The switches are actuated by electrostatic silicon comb drives with a high actuation force which results in a good reliability. The switch is adapted to frequencies from DC to 40GHz. A hermetic zero-level packaging avoids contamination of the contact area.
Further information in our data sheet: Protron RF Switch
Samples and evaluation boards are now available. Please contact us for more information!