Micromechanical Sensors
Protron develops customized micromechanical sensors. Besides our pressure sensor which can be adopted to your needs, we offer a development service for all kind of sensors. We have design and manufacturing know-how for inertial sensors (gyroscopes, inclinometers, accelartion sensors), thermal sensors (thermocouples and thermopiles), fluidic sensors (flow sensors for gases and fluids, interdigitated elelctrodes for impedance analysis).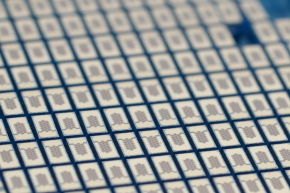 Customized Pressure Sensors
Protron has developed an absolute pressure sensor which is based on an ultra small surface micromachined capacitive sensor element. The choice of fused silica as a nonconducting substrate material results in the elimination of all parasitic capacitances to the substrate. The sensor has a long term high accuracy and a very small hysteresis compared to piezoresistive pressure sensors. Protron offers sensor dice and evaluation boards with application specific ASICS.
Features
pressure ranges: 0.3-1.3 bar / 2-8 bar
resolution: 0.02mbar @ 1bar
die size 0.6x1.2x0.5mm

3

SMD package for sensor die 3x3mm²
QFN package for sensor and ASIC 5x5mm²
I²C digital output
low power consumption
very small hysteresis
More information:
Protron Pressure Sensor
Flow Sensors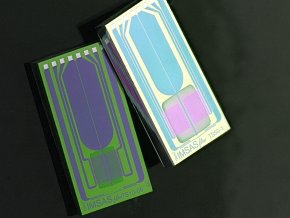 Protron offers a high-temperature stable thermal flow sensor based on a new fabrication process that was developed by IMSAS Bremen. The key advantage of this new fabrication process is a high-temperature LPCVD (low-pressure chemical vapour deposition) passivation layer that makes the sensor superior for liquid applications, such as in hydraulic systems, or for medical and biological sensing. These flow sensors are also excellent for measuring gaseous flow in pneumatic systems or for wind-speed measurement devices.
The thermal flow sensor consists of a central heating element and two high-precision thermopiles up- and down-stream of the heater. These components are placed on a thin membrane of silicon nitride. The free-standing membrane is used for thermally isolating the electrical components and is responsible for the superb dynamic behaviour due to the minimised thermal capacitance and the high grade of miniaturisation.
Features
Materials

thermopiles: p-doped poly-silicon & WTi
heater: WTi
membrane: silicon nitride
passivation: silicon nitride

thermo power per thermo couple: 287 μV/K
thermo power per thermopiles: 4.3 mV/K
typical output signal: 0 - 25 mV
More information:
Protron Flow Sensor